Traveling can be a rewarding and enriching experience, but it requires careful preparation. One of the most crucial aspects of travel prep is packing. Knowing what to pack for a trip can be confusing and even stressful, especially if you're traveling to a destination for the first time or are not used to packing for longer trips. This is where the ultimate packing list for every type of trip comes into play.
What to Pack for a Trip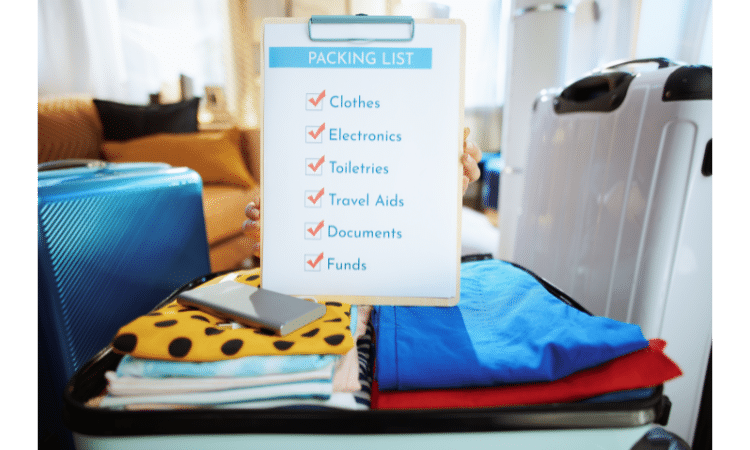 To ensure that you're adequately prepared for your journey, it's essential to consider your destination's climate, the activities you'll be doing, the length of your stay, and other such factors when deciding what things to pack for a trip.
Here is a trip list of general items that should be packed for any trip:
Travel documents: passport, driver's license, etc.
Money: Cash, credit cards, traveler's checks
Medications: prescription drugs, over-the-counter medicine
Clothing: appropriate for the destination's climate and culture
Personal care items: toiletries, sunscreen, hand sanitizer
Electronics: smartphone, laptop, chargers, power adapters
Entertainment: books, travel games, headphones
For a more detailed trip list packing, refer to the following sections based on the type and length of your trip.
Things to Pack for a 4 Day Trip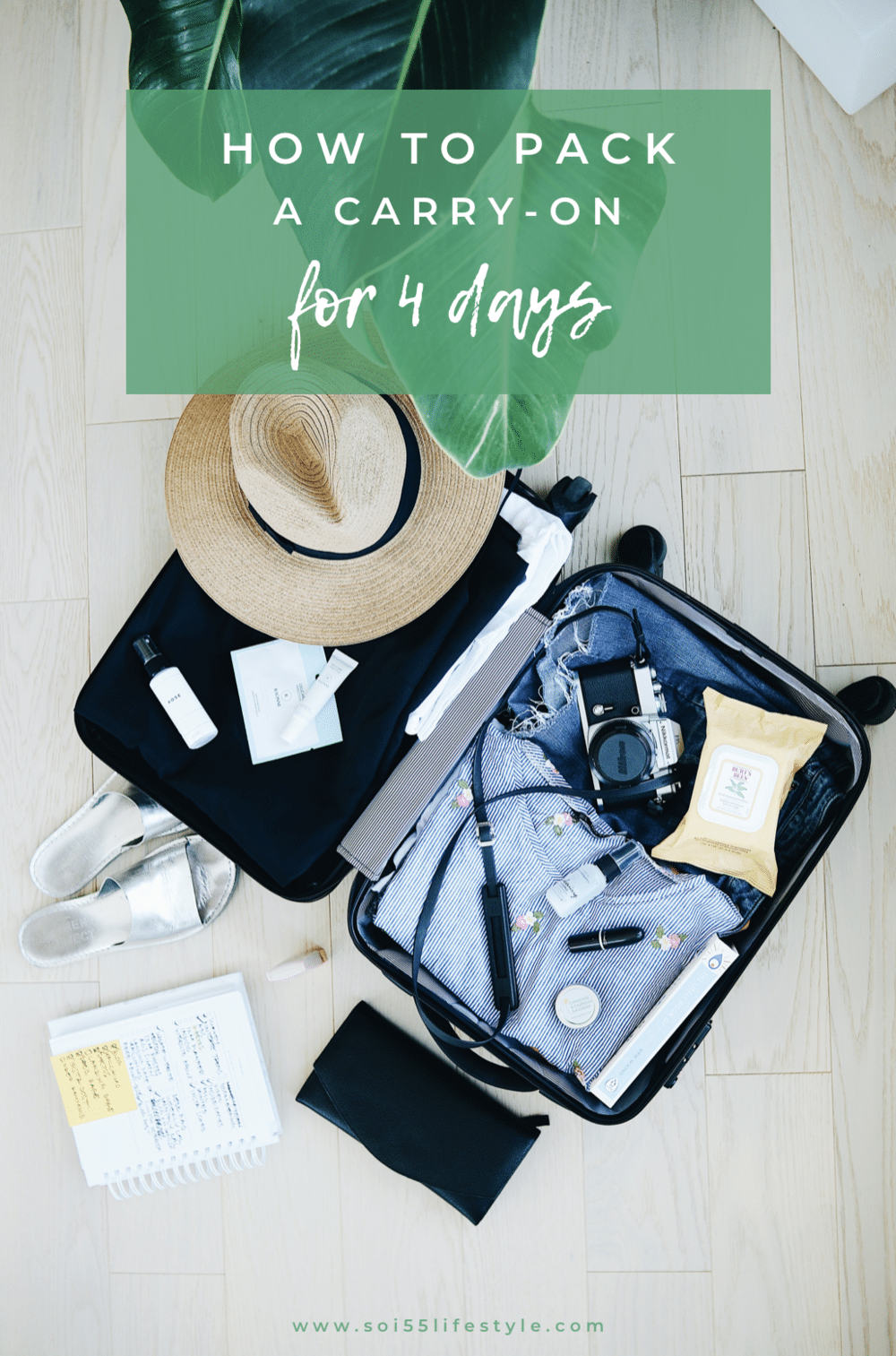 A four-day trip doesn't require a ton of luggage, but you still need to ensure you have the essentials. Here's a four-day trip packing list:
Clothing: 4 sets of underwear, 4 pairs of socks, 2-3 comfortable shoes, 2 pairs of pants, 4 shirts, 1 lightweight jacket or sweater, sleepwear
Toiletries: travel-sized shampoo, conditioner, body wash, toothpaste, toothbrush, deodorant, razors
Snacks: non-perishable snacks for travel days
Entertainment: a book or tablet for downtime
Three Day Trip Packing List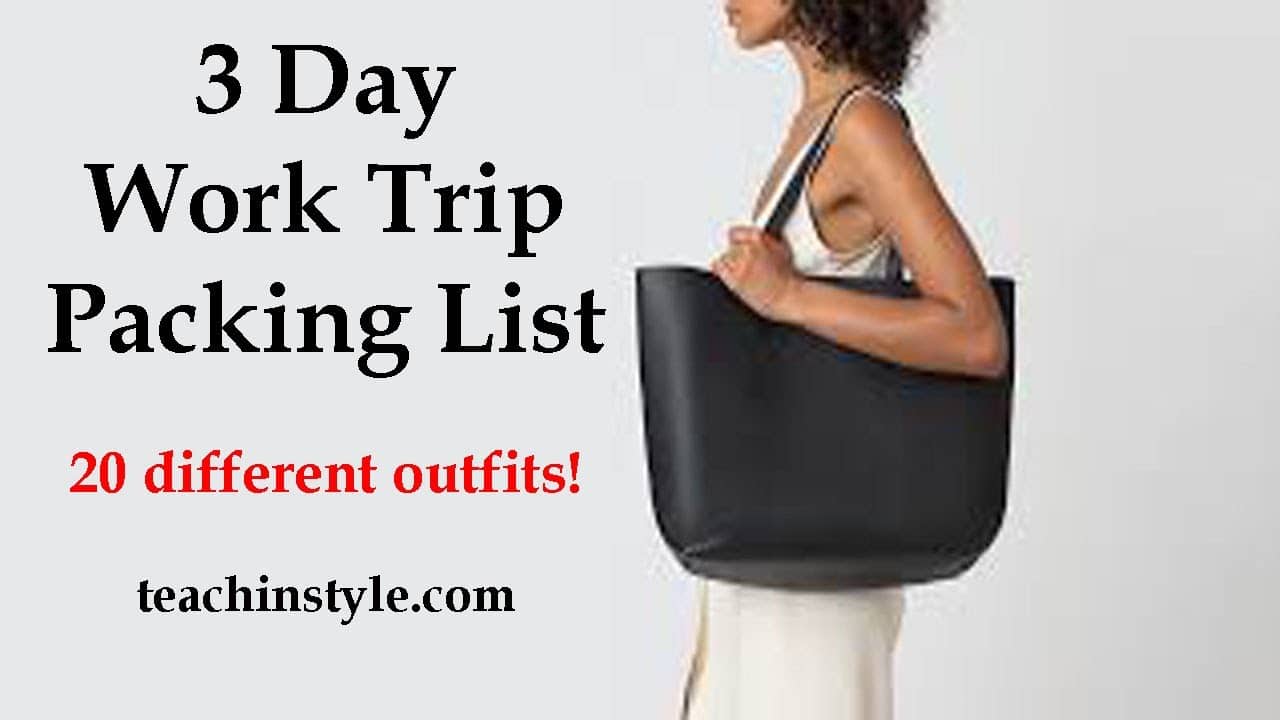 Shorter trips require even less packing. Here's a three day trip packing list:
Clothing: 3 sets of underwear, 3 pairs of socks, 2 pairs of pants, 3 shirts, 1 pair of comfortable shoes, sleepwear
Toiletries: travel-sized toiletries, as listed above
Snacks and Entertainment: as listed above
Things to Pack for a US Trip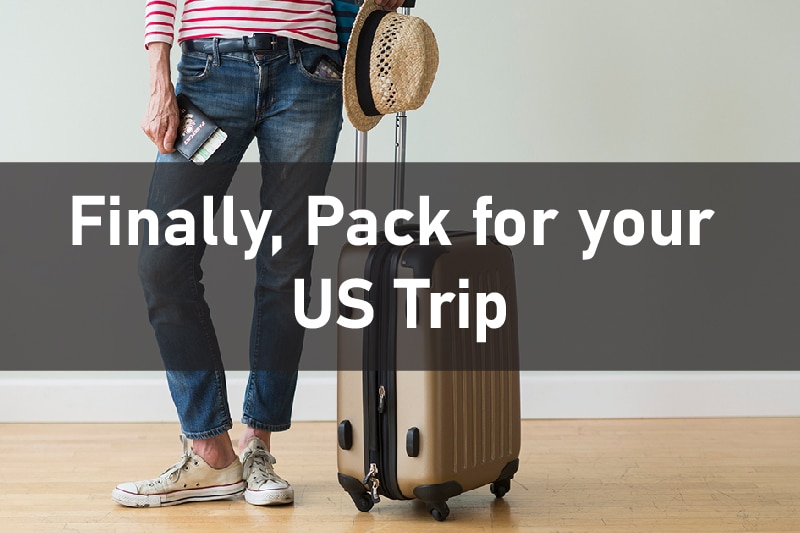 Traveling to the US might require additional items depending on the specific destination, the weather, and the activities you plan on doing. Here are some additional things to pack for a US trip:
Power Adapter: the US uses Type A or B plugs, so bring an adapter if necessary
Weather-appropriate clothing: check the weather forecast before your trip
Maps/Guidebooks: for major cities or national parks
Importance of a Packing List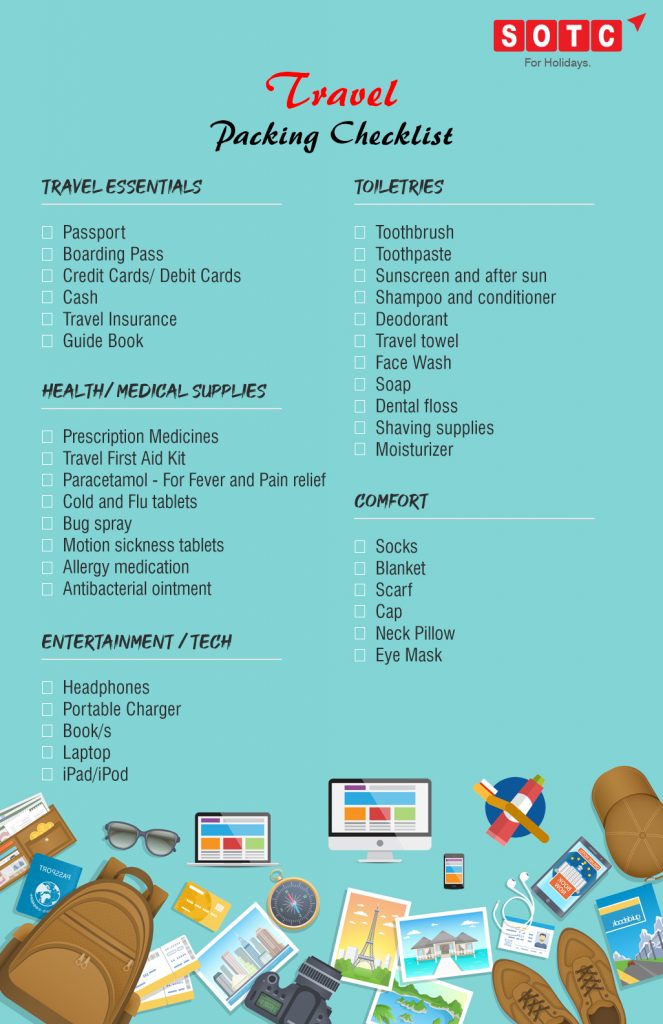 A packing list is not just a tool to help you remember what to bring, but also to help you organize your thoughts and your preparations. Why is a packing list important, you ask? It helps to ensure that you don't forget any essentials and also helps you avoid overpacking. Remember that excess baggage can be a burden and can also cost you extra if you're traveling by air.
How Esanchar Travel Agency Can Help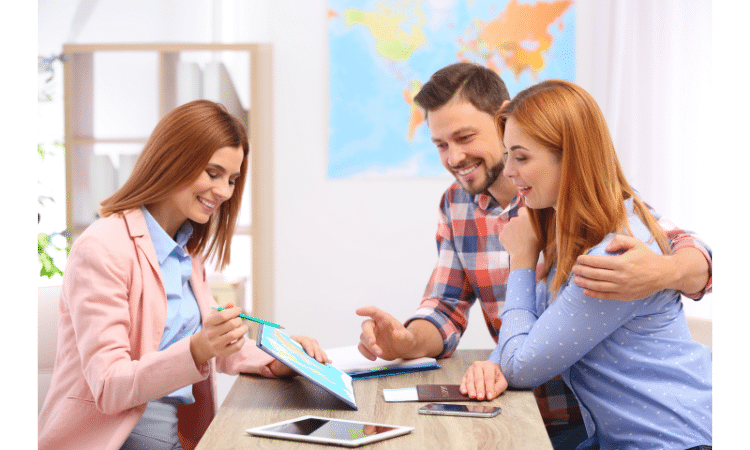 The process of planning a trip can be overwhelming, but it doesn't have to be. Esanchar Travel Agency is your one-stop solution for all your travel needs, from booking tickets and tour packages to arranging visas. With Esanchar Travel Agency, you are ensured a smooth and hassle-free travel experience. With years of industry experience and a dedicated team of travel experts, we specialize in curating the best travel packages catered to your preferences and budget. Whether you're planning to witness the breathtaking beauty of Kashmir, the serene backwaters of Kerala, or the tropical paradise of Andaman and Nicobar Islands, we've got you covered.
Moreover, we understand that different types of trips require different packing strategies. Whether it's a three-day business trip, a week-long vacation, or a month-long backpacking adventure, we provide personalized advice on what all things to pack for a trip. This way, you can focus on enjoying your trip while we take care of the logistics.
Types of Packing for Various Trips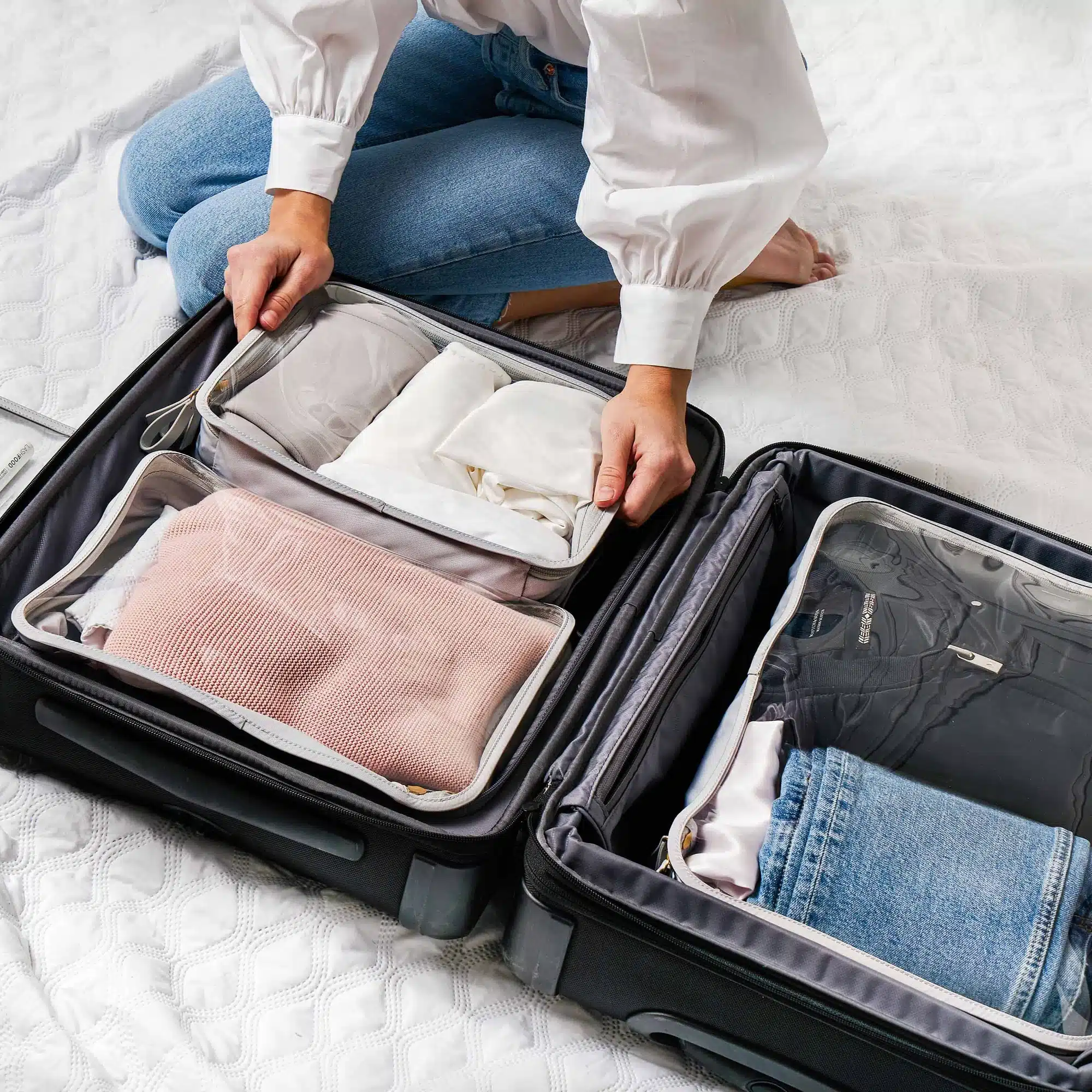 Packing for a trip is not just about what items to bring, but also how to pack them. Here's a brief overview of how many types of packing you might consider:
Rolling: Great for saving space and avoiding wrinkles. This method is ideal for clothes that are made of synthetic materials.
Folding: Traditional and effective for stiffer fabrics and formal attire.
Bundling: Wrapping clothes around a central core item, minimizing wrinkles and saving space. It's a bit more complicated but can be useful for longer trips.
Cubing: Using packing cubes can help keep your luggage organized and make items easier to find.
The Ultimate Packing List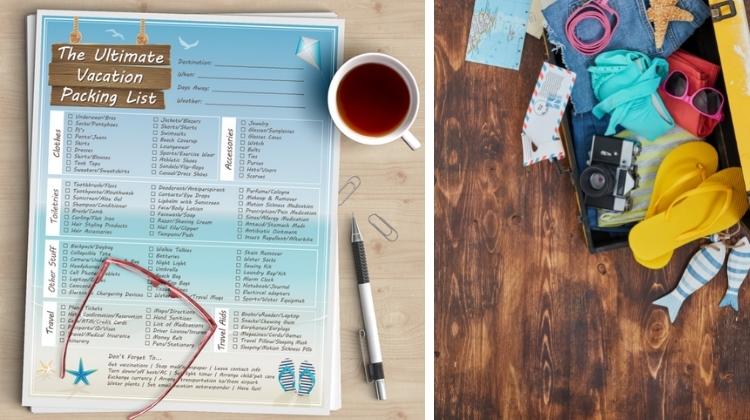 Now, with all this knowledge about packing and the items to bring, we can finally reveal the ultimate packing list. This list should cover most trips, but remember that every trip is unique, so adjust as needed:
Travel Essentials: Passport, Visa, ID, cash, credit cards, travel insurance, flight tickets, hotel booking confirmations, maps, guidebooks
Clothing: Underwear, socks, pants/jeans, shirts/tops, sweaters/jackets, sleepwear, swimwear, comfortable walking shoes, formal attire (if required), weather-specific clothing (raincoat, winter wear)
Toiletries: Travel-sized shampoo, conditioner, body wash, toothpaste, toothbrush, deodorant, razors, personal hygiene items
Health: Prescription medication, first-aid kit, pain relievers, allergy medicine, mosquito repellent, sunscreen, any required vaccination proof
Electronics: Smartphone, laptop/tablet, chargers, power bank, universal power adapter, earphones/headphones
Snacks: Non-perishable snacks like nuts, energy bars, crackers, dried fruit
Entertainment: Books, travel games, travel journal, pen
Miscellaneous: Reusable water bottle, travel pillow, eye mask, earplugs, travel locks, plastic bags (for laundry or wet clothes)
Packing may seem like a daunting task, but with the right trip items list, it doesn't have to be. Remember to start packing in advance, check items off your list as you go, and always leave some extra space in your suitcase for souvenirs. Safe travels!
Remember, Esanchar Travel Agency is always ready to assist you in making your trip a memorable one. Whether it's booking your travel or providing insights on things to carry for a 3 days trip or a longer vacation, we are your reliable travel partner.