PASSPORT & VISA
---
Travel Visas are required to gain entry to most countries around the world. For instance, you will need a visa to USA, Canada, England, China, Australia, Middle East, just to name a few of the popular destinations. There are a few certain countries that simply require an available Visa page in your current Passport to be stamped at the airport upon arrival, but in most cases one will need to acquire a Travel Visa before even departing India.Many international travelers are often not sure of the documentation required to enter foreign country. Visa is an official entry permit to your required destination.
Traveling is an enriching and unforgettable experience. As you explore new countries and cultures, it's essential to have proper documentation, including a valid passport and the necessary visas. The process of obtaining these documents can be time-consuming and confusing, which is why many travelers turn to professional travel agencies for help. We are ESANCHAR, a leading travel agent providing the best visa assistance services and passport assistance services in India and around the world.
In this article, we will discuss why you should choose our services, the countries we specialize in, and how we can assist you in obtaining a visa or passport. We will also touch on the benefits of using a travel agent and some frequently asked questions about visas and travel.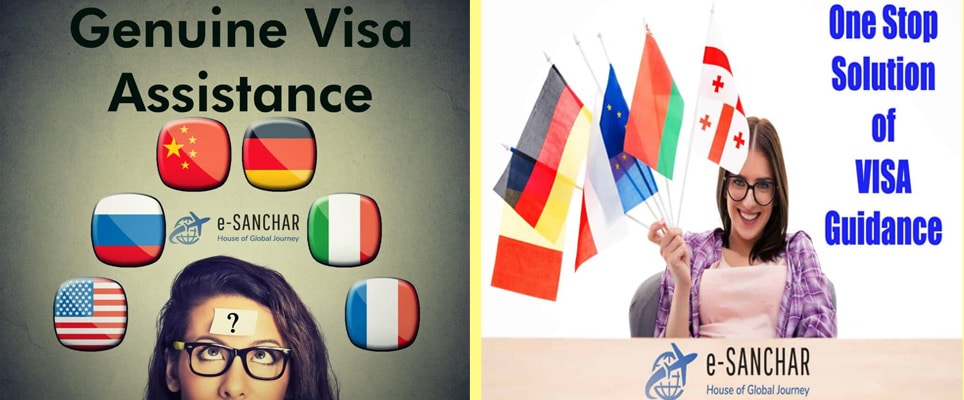 Why Choose ESANCHAR for Visa and Passport Services?
---
Here are some reasons why you should choose ESANCHAR as your go-to travel agency for visa and passport services:
Expertise: We have years of experience providing visa assistance services to clients from various countries. Our team of professionals is well-versed in the rules and regulations of different countries, ensuring that your visa application process goes smoothly.
Comprehensive Services: We provide complete passport and visa assistance services, from application to approval. We handle all the necessary paperwork, making your experience hassle-free.
Personalized Service: We understand that every traveler is unique and requires tailored solutions. Our team works closely with clients to understand their needs and provide the best possible assistance.
Competitive Pricing: We offer the best visa services at competitive prices. Our clients receive value for their money without compromising on quality.
Countries We Specialize In
---
We are proud to be the best visa agency in Burdwan and West Bengal for the following countries:
Best Dubai Visa Agency
Best UK Visa Agency
Best Singapore Visa Agency
Best Malaysia Visa Agency
Best Bali Visa Agency
Best Australia Visa Agency
Best Canada Visa Agency
Best Thailand Visa Agency
Best Mauritius Visa Agency
Best Reunion Island Visa Agency
Benefits of Using a Travel Agent for Visa and Passport Services
---
Time-saving: Applying for a visa or passport can be a time-consuming process. A travel agent takes care of all the paperwork, allowing you to focus on planning your trip.
Expertise: Travel agents have extensive knowledge of visa requirements and application procedures for different countries. This expertise can help avoid mistakes and ensure a successful application.
Stress-free: With a travel agent, you can be confident that your application is in good hands. They will handle any issues that may arise, ensuring a stress-free experience.
Up-to-date information: Travel agents stay informed about changes in visa policies and requirements, ensuring that your application complies with the latest rules.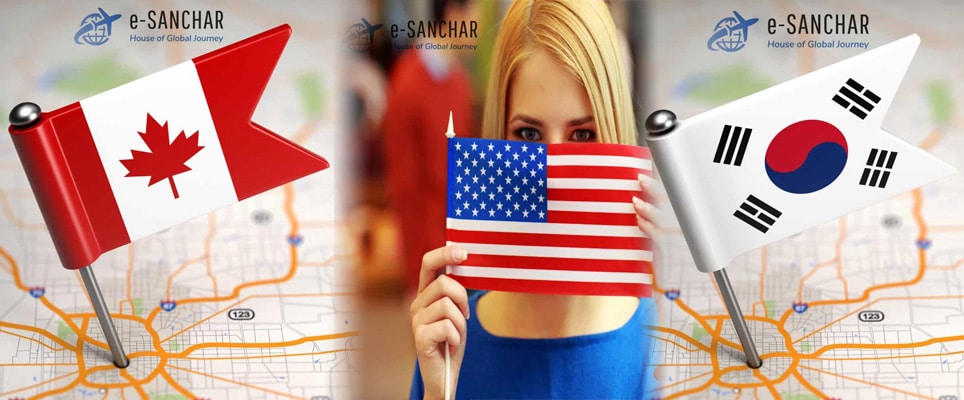 Frequently Asked Questions About Visas and Travel
---
Are travel visas required for Europe? For most European countries, a Schengen visa is required for non-European travelers. Some countries, however, may have specific entry requirements.
Can travel agents apply for visas on my behalf? Yes , travel agents like ESANCHAR can apply for visas on your behalf. We are well-versed in the visa application process for various countries and can provide you with the necessary guidance and assistance.
How often can you travel to the US on a visitor visa? There is no set limit on the number of times you can visit the US on a visitor visa. However, the duration and frequency of your visits may impact the likelihood of your visa being granted or renewed. It's essential to adhere to the terms of your visa and not overstay your permitted duration.
How to get a visa to travel around the world? Obtaining a visa to travel around the world can be a complex process, as each country has its visa requirements and application procedures. As a leading travel agent, ESANCHAR can help you navigate this process and provide guidance on obtaining the necessary visas for your journey.
Who needs a travel visa? The requirements for a travel visa depend on the traveler's nationality and the country they plan to visit. Some countries have visa-free or visa-on-arrival arrangements for certain nationalities. It's essential to research the visa requirements for your destination before planning your trip.
How much is a travel visa to the USA? The cost of a US travel visa depends on the type of visa you are applying for. Generally, nonimmigrant visa fees range from $160 to $240. However, fees may vary depending on your nationality and other factors. ESANCHAR can provide you with the most up-to-date information on visa fees and assist you with the application process.
How ESANCHAR Can Help You With Visa Assistance Services
---
At ESANCHAR, we offer a comprehensive range of visa assistance services to ensure that your travel experience is smooth and hassle-free. Our services include:
Visa Consultation: Our team of experts will help you determine the appropriate visa type for your trip and guide you through the application process.
Document Preparation: We will assist you in gathering and preparing all the necessary documentation required for your visa application.
Application Submission: Our team will submit your visa application on your behalf, ensuring that it is complete and accurate.
Visa Tracking: We will track the progress of your visa application and keep you updated on its status.
Visa Collection: Once your visa is approved, we will collect it on your behalf and ensure that it is safely delivered to you.
Conclusion
---
When planning your next international trip, consider partnering with ESANCHAR for the best in class passport and visa assistance. Our expertise, personalized service, and competitive pricing make us the ideal choice for all your travel documentation needs. Don't let the complexities of visa and passport applications hold you back – let ESANCHAR guide you through the process and help make your travel dreams a reality.